Gift Bag - New Perk Depending on Price of Puppy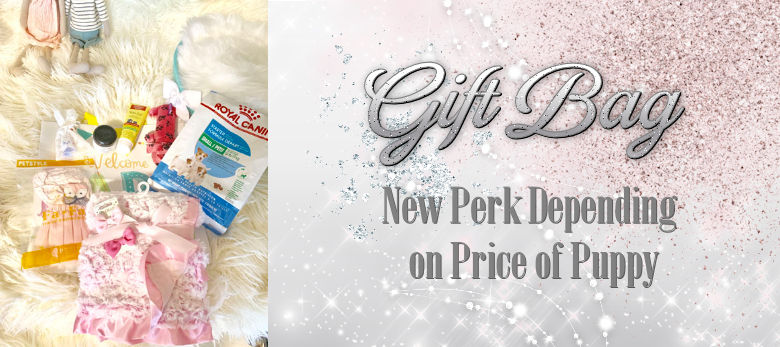 We are offering gift bags now on all the puppies (bred here) that we sell *!
*Puppies starting with a price of $2500 and up receive the following:
$2500 -$6000 Receive a outfit, blanket, toy, Official TatortotPup Birth Certificate & assorted hair bows.
$6000-$7500 Receive all the items above, plus a Hairbow and a Outfit
$7600 - up Receive all the items above plus a designer dog carrier, Eye Envy powder, a tube of nutrical and a small bag of starter Royal Canine Food.
Notice: Pups or dogs under $2500 selling price do not receive a gift bag. Sorry for the inconvenience, but our expenses do not allow for us to do so considering the rise in costs with the current inflation.
micro maltese puppies for sale, baby doll maltese puppies for sale, baby doll faced maltese puppies for sale, micro puppies for sale, micro teacup maltese, teacup maltese puppies for sale, doll faced maltese, doll faced maltese puppies, Korean Maltese Puppies for sale, Korean Maltese Puppies, Korean Yorkie Puppies for sale, Babydoll faced Yorkie Puppies for sale, teacup yorkie puppies for sale, Yorkie Puppies for sale in the USA, Yorkie Puppies for sale in Florida, Yorkie Puppies for sale in Miami, Yorkie Puppies for sale in West Palm Beach, Yorkie Puppies for sale in Tampa, Yorkie Puppies for sale in Sarasota, Yorkie puppies for sale in New York, Yorkshire terrier puppies for sale, Yorkie puppies, Babydoll Face Yorkshire terrier, Teacup Yorkshire terrier, Yorkshire terrier Puppies, Yorkie puppies for sale in Florida, Yorkshire terrier Puppies for sale in Florida, Yorkshire terrier puppies for sale