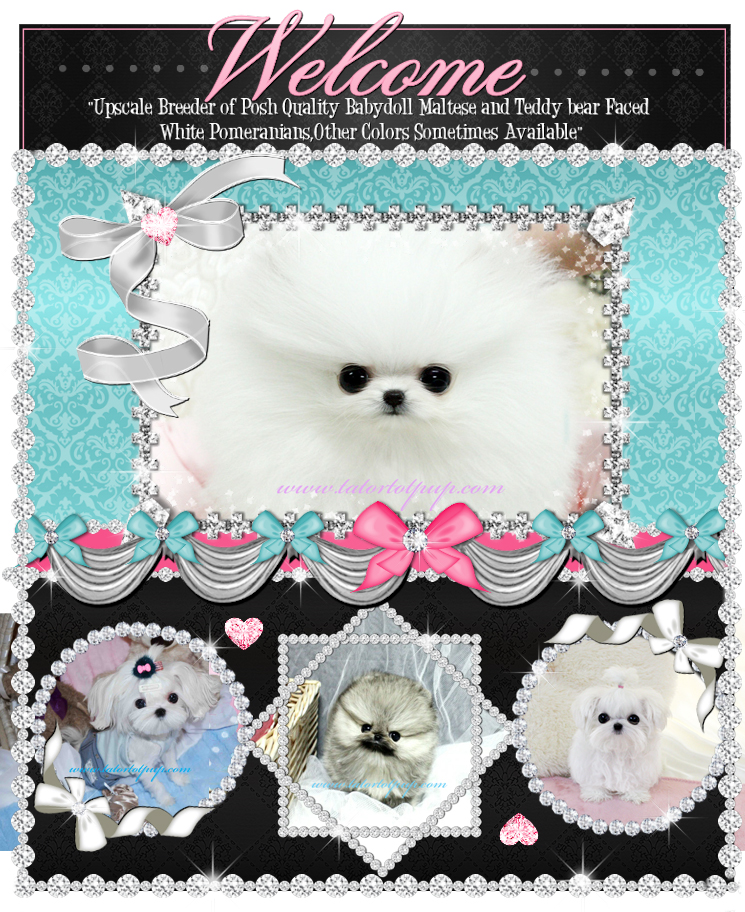 UPDATED PHONE NUMBER
941-374-6440
Babydoll Faced Maltese, Teddybear Faced White Pomeranian Puppies, Teacup Pomeranians & Colored Tiny Pomeranians
NOTE OF CAUTION: We are not a pet store, nor do we allow home visitation as to protect our own safety and our families safety. We meet our clients at a public safe place with our pups AFTER a deposit has been made. We have no problem face timing our pups that we breed ourself or taking videos or pics, but we MUST have a deposit down with contract signed to show any pup for sale that we have. Please do not ask different of us as the answer is no! We must protect our business and our family from the absolute unfounded and insane movement against any and all breeders! Sad we live in a world with such terrible attacking individuals!
We are a Hobby breeder - consists of only having 4 intact females at any given time. We are not a store, nor do we have puppies available at any given time! We are A HOBBY breeder with occasional puppies only!
Delivery Options available!
Accopanied in cabin white glove delivery by us, worldwide is available. Our proven Health Records, World Class Quality and positive testimonials are second to none!
Tatortotpup offers world class Korean quality teacup puppies bred here in the USA (our HOBBY breeding program - (no more than 4 breeding females are kept) which we are so excited about! If we do not have from our own breedings, we can help you find from our World Class Breeder friends as we do work for our clients on a fee referral based program as well! We do suggest getting on our hobby breedings wait list with deposit reservation down!
Examples of our Past Puppies -See our available page for our current Available Babies!<3
Contact Phone number for hobby breedings
941-374-6440
CLICK ON THIS LINK BELOW FOR MY RECOMMENDATIONS